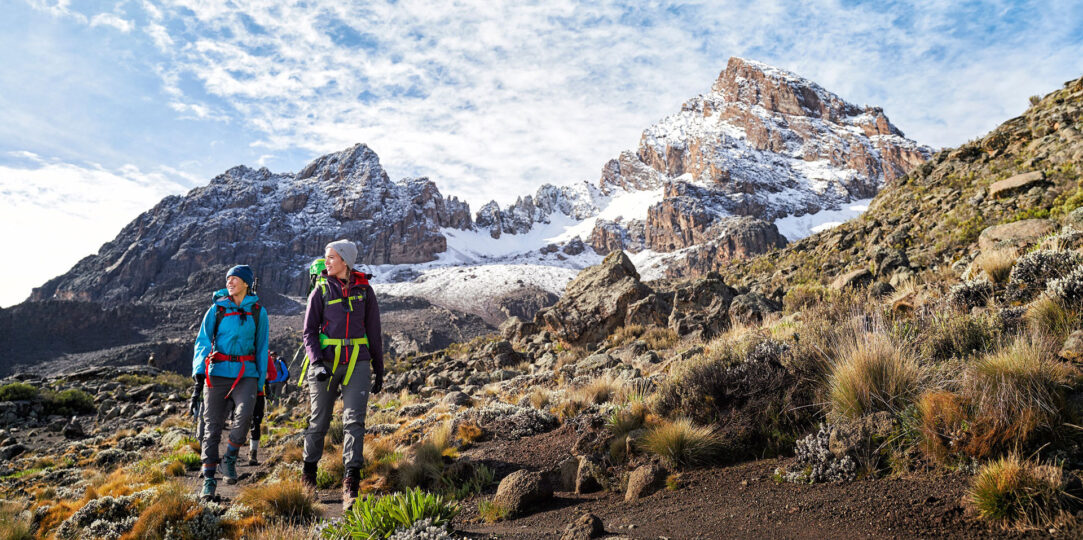 In this mountain climbing safari, you will be hiking through Kenya's tallest mountains, Mount Kenya. This is an amazing adventure especially joining other people who also will be there for the same purpose of adventure.

Includes

Transport in a safari van for game viewing

English and french speaking Driver/guide

Meals on Full Board Basis while on Safari

Mineral water
Day 1: Nairobi to Mount Kenya through Sirimon Gate
Depart Nairobi for Mount Kenya. Have lunch upon arrival before a drive to Sirimon Park where you will  trek 3-4 hours to Old Moses camp. From Old Moses camp you can see the summits of Batian and Nelion peaks of Mount Kenya. 
Day 2: Old Moses camp to Shiptons camp
A 6 - 8hr hike across Liki and Mount Kenya climbing routes Sirimon, Naro Moru, Chogoria Shiptons camp providing a great view of terrain. This also provides a great view of Nanyuki town which is very beautiful. Shiptons  camp has also an excelleny setting  with the north facing Nelion and Batian peaks.
Day 3: Shiptons camp to Point Lenana
You will hike from Shiptons camp to point Lenana peak. Point Lenana is the highest peak of the mountain which is thus an adventure to hike to such heights. The hike wil begin very early in the morning, at 3am, so that you can enjoy african sunrise at probably 6:30 am where you will be descending  from the hike for breakfast.
Day 4: Hike to Gorges Valley psite.
You will embark on a 4 and half hours hike through some of the most spectacular sceneries like  Gorges valley, Halls Tarns and Lake Elies.overnight at Mintos campsite.
Day 5: Mintos (Halls tarns camp) to Meru Mt.Kenya Lodge (Bandas)
About 6 – 8 hours, on dirt roads through a thick bamboo forest and tropical forest. The forest is really beautiful with chances of seeing wildlife and Mt Kenya Climbing- Chogoria Route Trekking Hiking Tours 4×4 chogoria routeColumbus monkeys. Transfer to Nairobi arriving late afternoon.32kms or walk half way to take 4×4 landrover.
Tour Price
| | | | |
| --- | --- | --- | --- |
| | | Residents | Non residents |
| 2 Persons in a safari | Cruiser | 67500 (Per Person) | 715 USD (Per Person) |
| | Van | 61500 (Per Person) | 655 USD (Per Person) |
| 4 Persons in a safari | Cruiser | 49800 (Per Person) | 539 USD (Per Person) |
| | Van | 46800 (Per Person) | 509 USD (Per Person) |
| 6 Persons in a safari | Cruiser | 43500 (Per Person) | 475 USD (Per Person) |
| | Van | 41800 (Per Person) | 459 USD (Per Person) |
| 8 Persons in a safari | Cruiser | 40500 (Per Person) | 445 USD (Per Person) |
| | Van | 39000 (Per Person) | 430 USD (Per Person) |